And … breathe. Congratulations everyone, we made it. We have arrived at the end of one of the most tumultuous political years in many of our lifetimes.
The country said 'thank u, next' to Theresa May's deal, Danny Dyer was the best political pundit of 2018, Nigel Farage was devastated by the news that the United Kingdom Independence party is in fact racist, Vince Cable introduced the world to the phrase 'exotic spresm' and our very own Conor Pope won best sigh of 2018.
From May's (cringey) dance with disaster, to more ministerial resignations than you can shake a LabourSay placard at, 2018 has been one of our most painful reminders of how important it is to have a progressive Labour government in power as soon as possible. There have been many challenges, both within our party and outside it, but everything we have achieved would not have been possible without our readers and activists. So, get comfortable on the couch, open up the chocolates and catch up on a busy year of progressive (and at times not so progressive) politics.
We will see you in 2019. To paraphrase the leader of her majesty's opposition: we will be back, and we will be ready for it – all over again.
---
The LabourSay campaign: on the march
In January of this year, it was clear that 2018 would be a pivotal year in the fight to stop Brexit. That is why Progress helped found LabourSay.EU: the campaign to give Labour party members a say on the biggest issue facing our country – and our party – in a generation. Through a network of grassroots activists and committed campaigners, we were able to shift the narrative on Brexit.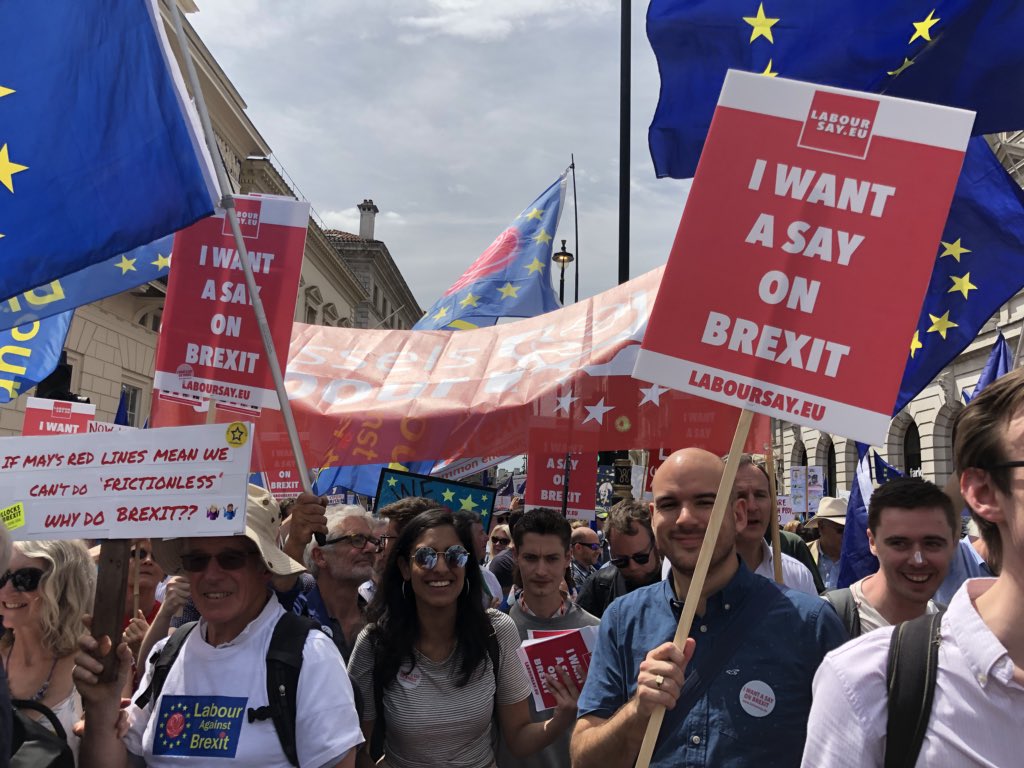 This year also marked the end of lie-ins for pro-European Union progressives. Saturdays are for marching now. Those of you at the two People's Vote marches would have seen progressives wildly waving our 'I want a say on Brexit' placards.
In October we joined 700,000 anti-Brexit activists in London, on one of the largest protests in British history, to demand that government give the British public a final say on Brexit. We marched, we chanted and we even put your prime ministerial dancing skills to the test.
Today @stefanrollnick and the #LabourSay campaign popped down to the #PeoplesVoteMarch to chat to some activists, including @RosieDuffield1, @Siobhain_MP and @OwenSmith_MP.

Watch it now 👇👇 pic.twitter.com/YrLf8hB8YP

— Progress (@ProgressOnline) 20 October 2018
Progress annual conference
2018's Progress Annual Conference took place on the backdrop of Labour's internal Brexit struggles. We were lucky enough to have ex-No 10 spokesperson and organiser of Brexit-themed wrestling matches, Alastair Campbell, as our keynote speaker. He gave a frank speech on how much more Labour needs to do to tackle Brexit.
We were also joined by Diane Abbott MP, Ben Bradshaw MP, Stephen Bush, Cllr Clare Coghill, Manuel Cortes, Stella Creasy MP, Seb Dance MEP, Liz Kendall MP, Roger Liddle, Alison McGovern MP, Marlon Solomon, Wes Streeting MP and many more. You can catch up on some of their interesting contributions here.
The fight against antisemitism
One the toughest fights Progress has taken on this year has been to get rid of the scourge of antisemitism from the Labour party. The battle to ensure Labour held its members and activists to the widely-adopted standard of antisemitism – the International Holocaust Remembrance Alliance definition – was at times painful but would not have been possible without the work of the incredible activists in the Jewish Labour movement. Whether it was Luciana Berger's fantastic speech in the House of Commons or the remarkable protests outside parliament, through our collective action a painful year for Britain's Jews has been turned into a strong campaign against indifference to racism.
In July, Jewish Labour Movement's youth and student officer Liron Velleman laid out why Labour's pre-existing definition of antisemitism was so weak, and in September, our editorial assistant Stefan Rollnick wrote a piece urging his fellow Jewish Labour activists not to leave Labour, but to stay and fight.
Progressive voice, chaotic times
As the government went from 'strong and stable' to, well, not very strong and stable, it became harder and harder to see what was going on through all the media noise. The Conservatives did their best to appear united, but the cracks were always there. As May danced on to the stage at Tory annual conference, people thought it marked the end of their divisions, but we weren't so sure…
When you've ruined the country but it's fine because it'll be someone else's problem in a few months #CPC18 pic.twitter.com/WC9MgC7c7L

— Progress (@ProgressOnline) 3 October 2018
The chaos continued well into autumn. The prime minister was unable to command a majority in the Commons, and the news seemed to come quicker and quicker with each day. To make life easy for our busy activists, LabourSay set up a WhatsApp broadcast list with all the freshest analysis you need to stay on top of this bin fire of a government – you can sign up here.
Feeling a bit lost? LabourSay is here to help.

The LabourSay campaign has set up a WhatsApp broadcast list, keeping you up to date with all of the key moments of Brexit – produced by people who know what they're talking about.

Sign up here 👇👇https://t.co/kWNL5m0zPN pic.twitter.com/95aZRCFi6B

— Progress (@ProgressOnline) 10 December 2018
Elections, elections, elections
This year was a big year on the election front. First we had the National Executive Committee elections. We were happy to endorse a brilliant, diverse field of candidates – all of which did centre-left members proud with their positive campaigns. Despite the result, we want to say a huge thank you to Luke Akehurst, Lisa Baines, Johanna Baxter, Jasmin Beckett, Eda Cazimoglu, Gurinder Singh Josan, Marianna Masters, Heather Peto and Mary Wimbury for putting Labour members first on Brexit, standing up to antisemitism and representing our regions.
Progress also had its 2018 strategy board elections. Over the course of the election nearly all of the candidates posted interesting articles for our site on their vision for Labour – and we would like to congratulate them all another great campaign. The winning candidates were:
Parliamentarians: Gloria De Piero MP, Peter Mandelson, Alison McGovern MP and Phil Wilson MP
Members: Mary Wimbury, Rachel Saunders, Sheila Gilmore and John Hannett
Councillors: Joanne Harding, Christabel Cooper, James Beckles and Sean Woodcock
Young members: Liron Velleman and Marian Craig
Progress at Labour conference
This year's Labour conference was the first major milestone of the LabourSay campaign. All the hard work since January, combined with some great pieces on the Progress website pre-conference and countless constituency Labour parties across the country submitting motions calling for a say on Brexit, culminated in dramatic scenes as the composite motion was overwhelmingly supported by delegates. On top of this, Brexit secretary Keir Starmer's impromptu line in his speech about 'Remain' being on the ballot paper in the event a public vote received a standing ovation.
At Progress conference HQ we had our annual Progress rally with some thoughtful speeches and we had a packed programme of events with interesting discussion on all subjects from housing to Brexit. You can catch some of our round ups here.
Oh, and our deputy director Stephanie Lloyd went viral.
Matt Zarb gets schooled. pic.twitter.com/ppiuOnjc4O

— Ben (@Jamin2g) September 24, 2018
10 years and a new challenge
After four years as director of Progress, and 10 years of service to the organisation, Richard Angell stepped down in December. His work to secure Progress' future with a new member-led funding model over the past year, coupled with his commitment to giving Labour members a say on Brexit and solidarity with Jewish members in the face of antisemitism is unparalleled. He leaves Progress in a very strong position and we wish him all the best for the future.
In his departing statement Richard said, 'The next decade is going to be challenging for social democrats in the Labour party. However, the future can be ours if we renew our ideas, bring on new talent, master the technology that gets our message across, stop the deselection of our MPs, and keep Britain close to Europe. It can be done. But it is for someone else to take the Progress wing of Labour membership through the next stage. I wish them every luck and will be backing them every step of the way.'
You can read his final article for Progress here.
---
Best from Progress 2018
Editorials
This Conservative government's stewardship of the NHS is simply inadequate. Most would hazard a guess that this will not have changed by the time of the next election, and the new money promised last month will not have been found
Social democrats missing agenda
Over the last few years it has felt like social democrats have been missing a project. The IPPR's latest Commission on Economic Justice could provide the radical ideas we've been looking for
This isn't what anyone voted for
The potential for control that attracted people to leaving the European Union is diminishing, while the gap between what the public wanted and what we will get grows. The campaign for a People's Vote must solve the democratic deficit at the heart of Brexit
The Progressive
A rational and radical republic
To be a republican is to stand up for democracy, not indulge in petty anti-royalism, writes The Progressive
Despite all the odds, Jacob Rees-Mogg wins the 2022 general election to the disbelief of progressives everywhere
The former foreign secretary's despicable targeting of Muslim women means many have written him off. But Conservative party conference has shown that this might be premature, writes The Progressive
Letter from…
Dublin: The Tories' hard Brexit does not deliver the border Ireland needs
Only the single market and customs union can deliver the type of border that Ireland and Northern Ireland needs, writes Irish Labour leader Brendan Howlin
Brasília: Another crude-talking rightwing reactionary – meet Brazil's new president 
They may share implausibility, simplicity and moral bankruptcy, but viewing newly-elected president Jair Bolsonaro as Brazil's Donald Trump does not explain his success, reveals Dan Restrepo
Washington D.C: Big ideas from across the pond
As the US media casts its eyes towards 2020, Joe Cox and Stefan Rollnick look to the Democrats for inspiration
See more from the Progress magazine here.
The Progressive Britain podcast
Live special with Wes Streeting: should progressives embrace the fourth industrial revolution? 
Enough is enough: sorting Labour's antisemitism problem, with Marlon Solomon
Breaking the deadlock: why the polls are tied, with Deborah Mattinson
Is liberal democracy dying? With Yascha Mounk
Progressive Britain: a new economy, with Stella Creasy, Tom Kibasi and Allen Simpson
---
Donate to Progress
Progress is a movement of centre-left Labour party members. We wish to promote a radical and progressive politics and bring about a Labour government to implement the Clause IV values of the party we love. Founded in 1996, we are an independent organisation campaigning for Labour victories at every level of public life.
In order for Progress to be able to put on thought-provoking discussions and training events around the country, we need the support of our members.
If you want to support our work – please consider giving a donation, you can join here, increase your contribution here, join the 100 Club here, or the Thousand Club here.
Progressive centre-ground Labour politics does not come for free.
It takes time, commitment and money to build a fight against the forces of conservatism. If you value the work Progress does, please support us by becoming a member, subscriber or donating.
Our work depends on you.